Vilnius and Kaunas to be carried out repair of robot pumps.
We repair professional and domestic robotic pumps:
Taisome Adler, Amica, Beper, Bosch, Camry, Clatronic, Daewoo, Dirt Devil, Dyson, ECG, Electrolux, ETA, First, Grizzly, Guzzanti, Hoover, iRobot, Karcher, Lavor, MPM, Philips, Polti, Samsung, Saturn, Scarlett, Sencor, Severin, Siemens, Solac, Thomas, Zelmer, Philips, Xiaomi, Ambrogio, Mamibot, Zodiac, Bosch, Ecovacs, Worx, Makita, and other robots - vacuum cleaners, window cleaners, toys, and other types of robots
If you are insured, we can issue a repair certificate to the insurance company.
We replace and repair electrical parts, faulty components, circuit boards, housings. Re-soldering of various components. We carry out diagnostics before carrying out repairs.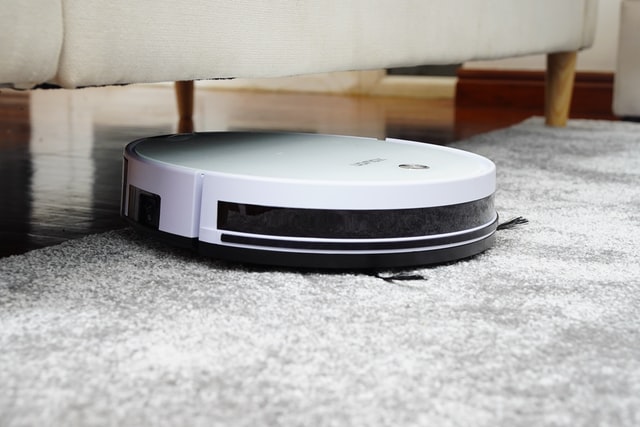 The most common faults with robotic pumps
Here are the most common faults for which customers come to us for repair work.
1. Battery, carpet movement and humidity
When the robot pump stops due to a low battery, it has to be manually pushed into the docking station. Of course, the docking station must be switched on and the corresponding indicator must confirm that there is contact between it and the robot.
Lack of charging at the docking station, incomplete charging, rapid discharge during operation and other similar symptoms usually indicate a battery failure. As is well known, most models use lithium-ion or the more modern lithium-polymer batteries with polymer electrolyte.
However, even their parameters deteriorate in about 2-3 years. Unfortunately, this problem can only be solved by replacing the rather expensive battery.
However, similar problems are often caused by oxidation or contamination of the charging connector in the docking station and the robot, or by a fault in the cable or the robot's control board. A simple visual inspection and removal of the charging contacts can eliminate the problem. Unfortunately, other causes require professional knowledge and experience to diagnose and eliminate.
Some universal models move jerkily on the carpet. For example, this fault is caused by a cracked scraper rubber. Replacing it solves the problem.
Most robotic vacuum cleaners only provide dry cleaning and have no waterproofing. Water ingress can therefore damage it. In this case, it is recommended to follow the recommendations below:
- switch off the power, remove and empty the dust box, clean and wipe with a dry cloth;
- remove, clean and dry the filters;
- drying the whole appliance thoroughly and for a long enough time;
- only switch on when the plate is completely dry.
2. Automatic return to docking station, brushes and wheels
The protective film on the infrared panel on the docking station significantly degrades the quality of the connection. Of course it should be removed.
The sensors on the bumper of the robot must be open and clean.
Sometimes the robot does not return to the docking station due to the start of the cleaning process from another location in the room. Accordingly, starting from the station eliminates this reason.
Improper installation of a docking station also causes the problem of finding and returning to the docking station. This function normally requires that there should be no obstructions within a 70 cm radius on either side of the docking station.
Typically, modern models use two large side wheels, one small diameter front wheel, a turbine brush and/or side brushes. Of course, dirt, dust, hair and threads on the brush shaft or wheel increase the load on the electric motors and shorten their service life. This can lead to impaired rotation. Brushes and wheels should therefore be cleaned regularly. These items are usually relatively easy to remove. In addition, some companies add special accessories to their models.
However, if the cleaning does not restore normal rotation, this indicates a more serious problem, such as an electrical motor misfire or gearbox failure. Of course, such repairs require the intervention of a specialist. In this case, the repair of robotic pumps should be entrusted to Techremontas specialists.
3. Low suction power and navigation
As is well known, the suction power is inversely proportional to the filling of the dust bin. Contamination of filters, side brushes and the central turbine brush also reduces the robot's performance. Accordingly, emptying the dust box and cleaning the brushes and filters solves this problem.
Of course, engine failure is the most serious problem. Unfortunately, such repairs require costs and specialist intervention. In this case, the repair of the robot pump should be carried out by our technicians.
Models with the wet cleaning function sometimes fail to wet the fibre pad due to a blocked water inlet. However, needle cleaning solves this problem.
Navigation ensures the robot's orientation in space. It usually includes an edge sensor and lateral obstacle sensors. More expensive models often use laser range finders and a built-in camera. Of course, incorrect operation of the sensors will impair the movement of the robot. For example, it starts to move only in circles or backwards.
Usually, a failure of the side sensors causes the robot to move in circles in one place. Backwards motion is usually caused by contamination of the edge sensor under the front wheel. In this case, these problems are solved by simply wiping their surface.
Orientation can also be blocked by faulty LEDs or a malfunctioning control board. However, these causes need to be eliminated by a specialised robotic pump repair workshop in Techremontas.
Robotic vacuum cleaners also have certain features. For example, they work less well on dark surfaces and are less able to navigate in a room with dark furniture. However, this aspect relates to the general disadvantages of modern robots.
Contact us for a professional robot pump repair for your appliance. Vilnius and Kaunas.